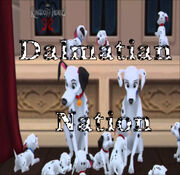 Finding the 99 Lost Dalmatian puppies is a mini-game that awards 1 Crown for each Dalmatian puppy found. The goal is to find a word used by Krowley in one of the Role-play posts that corresponds directly with the name of a Dalmatian puppy. A puppy found is then reported to the Guild Hall for the aforementioned compensation.
Rules:
The puppy's name used MUST correspond EXACTLY with the spelling and tense of each word listed. e.g. "Pointed" in the Role-Play is NOT the Dalmatian Point.
Only posts made by the User Krowley count.
A word need not be capitalized to count.
Up to Seven (7) Puppies per player.
Locations must specify the following criteria to be claimed (Please make wiki work easier!) :

Page Number;Post Number;World.
Note: For "Locations", the information listed gives the following information: Page Number;Post Number;World.
Puppy
Found by
Location

Ashes

Beuce
84;1677;Dwarf Woodlands

Badger

Kel
70;1388;Nottingham

Badges

Big Dipper

Black

Base

45;896;Great Forest

Blunder

Bluster

Bogey

Bones

Ananta
228;4450;Central Haven

Bongo

Buddy

Base

35;685;Deep Jungle

Buttons

Beuce
113;2254;Castle of Dreams

Chance

Base

1;13;Land of Departure

Chase

Noroz

8;147;Deep Jungle

Checkers

Chew

Eon
151;3001;Kingdom of the Sun

Chief

Chocolate Chip

Cinders

Cloud

Beuce
69;1364:Dwarf woodlands

Cosmo

Cotton ball

Cue ball

Dab
Ananta
104;2084;The Outback
Domino
Drifter
Ears
Beuce
116;2316;Pachyderm Parade
Eight ball
Einstein
Ellipses
Fang
Karina
113;2241;The Outback
Fault
Steel
97;1929;Pachyderm Parade
Fetch
Eon
86;1716;Realm of Darkness
Flip
Krowley
30;588;Deep Jungle
Freckles
Full stop
Beuce
50;990;Dwarf Woodlands
Grinder
Gumball
Heart
Base
1;5;Land of Departure
Hot dog
Inky
Jersey
Jimmies
Joke
Beuce
60;1191;Nottingham
Junior
Ananta
163;3257;Kingdom of the Sun
Little dipper
Lucky
Beuce
105;2084;Pachyderm Parade
Lollipop
Marbles
Nickels
Nugget
Odball
Orion
Ananta
224;4473;Central Haven
Patches
Peeve
Pepper
Pinwheel
Point
Glen
116;2304;Pachyderm Parade
Polka
Princess
Base
35;685;Deep Jungle
Roll
Karina
62;1233;Nottingham
Rorschach
Round
Base
23;456;Deep Jungle
Scamper
Karina
108;2141;Baker Street
Scout
Noroz
1;7;Deep Jungle
Seargent
Shift
Karina
110;2186;Pachyderm Parade
Sketch
Karina
99;1964;Castle of Dreams
Skipper
Slowpoke
Smoky
Smudge
Snake eyes
Snip
Snowball
Soccer
Spark
Cat
138;2751;Land of Departure
Sparky
Speckles
Spindle
Karina
62;1228;Nottingham
Splatter
Spot
Base
36;704;Deep Jungle
Squeaky
Squirell
Karina
68;1359;The Great Forest
Stripes
Ananta
154;3070;Wonderland
Sunspot
Tac
Tic
Tippy
D'daear
274, 5469, Timeless River
Toffee
Toe
Ananta
50;996;Dwarf Woodlands
Tramp
Tug
D'daear
277, 5532, Country of the Musketeers
Twister
Typhoon
Wags
Windy
Whirlwind
White
Luna
99;1976;Castle of Dreams
Total Found: 39
Total Left: 60
Ad blocker interference detected!
Wikia is a free-to-use site that makes money from advertising. We have a modified experience for viewers using ad blockers

Wikia is not accessible if you've made further modifications. Remove the custom ad blocker rule(s) and the page will load as expected.