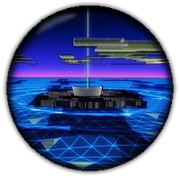 Space Paranoids is part of the ninth set of worlds in Kingdom Hearts SOS. It is one of the three Reaper Game Worlds in the second mission for said games, all apart of the Mark of Mastery Exam. It is based off of the 1986 film "Tron."
Participating Players
Edit
Aislinn
Hikaru
Kel
Stratos
Ad blocker interference detected!
Wikia is a free-to-use site that makes money from advertising. We have a modified experience for viewers using ad blockers

Wikia is not accessible if you've made further modifications. Remove the custom ad blocker rule(s) and the page will load as expected.